News
Posted by Sam Hooshmand on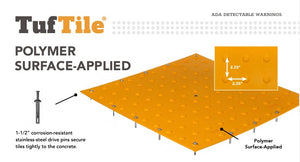 SURFACE APPLIED TILE Place the tile on the designated location and trace the perimeter with a thin permanent marker. Set the tile aside and using a 4" diamond cup grinder, scour the concrete within the marked location and on a cross pattern corresponding with the boss on the backside of the tile to remove any dirt or foreign material. (Not recommended for asphalt surfaces). Clear away the dust with a leaf blower then clean the back of the tile and the concrete with rag soaked in Acetone. Apply the entire tube of adhesive (Tactile Bond & Seal) to the back...
Posted by Sam Hooshmand on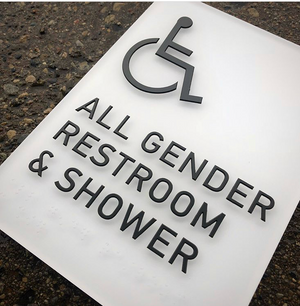 As of March 1st, 2017, all single user restrooms in public buildings, as well as retail and commercial establishments in California must display gender neutral signage. This means that the traditional men's and women's restroom signs are now obsolete, and must be replaced with two new signs - one for the wall outside the restroom, and one for the door. While this may seem like a daunting task, we're here to help! In this blog post, we will outline everything you need to know about California's new gender neutral restroom regulations.   First, let's take a look at the new...